Return to the home page to view our full catalog

Have questions? Call us at 1-339-440-1766 Monday-Friday 9am-5pm eastern Saturdays 10-3pm or email info@arcanelore.com
---
We do not sell fabric or trim. These are for the gowns that we make.
You may also view some of the trims available by clicking here
TRIMS
---
Velveteen
100% Cotton and the closest to real period velvets.
New stock colors

Made with 100% cotton dyed velvet material, the delicate look is preserved best through a dry clean care method


We can special order a great variety of colors. Additional fee and time required

Click here to view all special order colors of velveteen

Stock Velvets
High quality premium 100% Rayon flat velvets with an incredible full pile! Also White and Black
Currently Aubergine and gunpowder are discontinued


Special order velvets

Crushed 100% Velvet

In stock Black, White, Ivory, Celtic Moss, Burgundy, Caribbean, Chocolate, Ice blue and Lavender
* Caribbean blue crushed velvet is now in- stock

*Special Cross dye 65% Rayon/35Acetate - Midnight Sapphire or Frosted Silver


We also stock Black, White and Caribbean Blue
Dahlia and X-Mas Red

Many of the Rayon velvets are available in crushed velvet. Please see the list and ask us about availability.

Panne Crushed Velvet
also known as velour and stretch velvet

Polyester stretch fabric that looks like crushed velvet. Lightweight, and durable. Great for children.

* White, Candlelight or additional fee.
Silver moon no longer available.

Soon to be discontinued when our current stock is depleted.
---
Satins

Bridal Satin
Stocked colors

*White, Black, are stocked colors

Other colors available through special custom order. Additional fees apply.


French Satins

French satins are low luster or non shiny satins. They are rich in color and texture. We offer two types of French satin. Most are special order colors.

Stocked colors:

White, Black, Ivory. Wine (burgundy) and Hunter.

Crepe Back Satin

One side is shiny, the other is flat. This fabric has a soft flow to it

Perfect for contrasting. We recommend this fabric for the Italian gowns and Accolade series.

stock colors: white, ivory and lavender

most need to be special ordered.

Shangtung Satin

Appears to be raw silk. One side is shiny, the other is flat finished and coordinates with itself perfectly.

Most colors are special oder.

Stocked colors: White, Ivory, Purple, pink, Pale blue, black
---
Jacquards and brocades (non -silk)

Celestial Jacquard

Romanza Jacquard

Jessi Jacquard
Available in Ivory/gold, White/silver, Black/Silver or Black/gold

| | | |
| --- | --- | --- |
| Jessi Ivory Gold | | Jessi White Silver |
| | | |
| Jessi Black Silver | | Jessi Black Gold |
| | | |

no special order colors available.
---
You may also view some of the trims available by clicking here
---
Celtic Brocades


Celtic Cross
Brocade

perfect for forpar front skirting, sleeve linings, cape linings and in some cases doublets and nobility robes.


We offer this pattern in the following combinations:
Burnished gold and burnished silver in black, dark blue, green and wine. The burnished finish is perfect for period gowns.

We also offer metallic finish in gold and silver with white, black, blue, burgundy, green and purple.

Celtic Scroll Brocade
Available in
White/Silver metallic
Black/Silver metallic
Cream/ brushed Gold non metallic (shown at right)
White

No special order colors
Royal Celt Brocade
Available in
White/Silver,
Black/Silver
, Ivory/Gold

Elvish Scroll
Currently instock

Colors
White Silver
Ivory Gold
Burgundy/Gold
Burgundy/Silver
Hunter/Gold
Blue/gold
Blue/silver
Black Gold
Black Silver




No special order colors
Regal Diamonds
Black/gold
Ivory/Gold
Burgundy/Gold


*coin not included this is shown for size scale.
---
---
---
Polar Fleece


Black


forest


Purple


Royal

Burgundy
Polar fleece is perfect for cloak linings!!
---
Silks
Solid 100 % Raw Silk
Dupioni Silks Color Charts Click Here
This fabric is stunning. Its texture is Dupioni is used by fashion designers world wide in there finest gowns and clothing. Raw silk gets softer through time and is simply exquisite.
Silk Brocades
Silk brocades are apx. 22-30" wide and therefore not suitable for certain gowns.

Silk brocades are a Rayon & Silk blend


White blossoms

Peach leaf

White floral

Ivory/White gold dragons (this is also available in solid White silk

Burgundy gold phoenix

These brocades are available in very limited quantity. Click the photo for a larger view

Ivory gold ferns


Blue/silver ferns

White ferns

Celadon Gold Dragons
---
Taffeta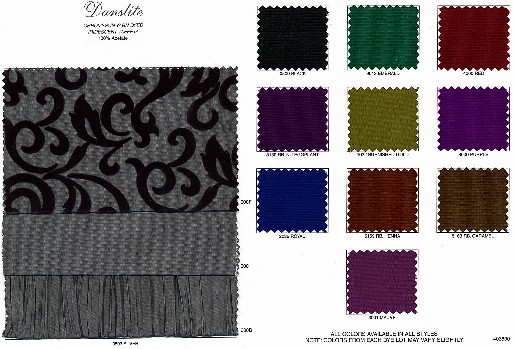 Flocked In stock colors
Solid In stock colors
Sapphire
Purple
Emerald
Mauve


Tuscan Gold
Burgundy

Sapphire
Purple
Emerald
Tuscan Gold
Carmel
Burgundy
Black|
Platinum
Sheers, Organzas, Chiffons, Laces and overlays

Metallic Laces

overlays, sleeves, veils

Allover lace

colored laces with small floral pattern. Ideal for childrens gowns, and bridesmaid overlays. These also make beautiful veils.

*note the coordinating fabrics

Allover laces

Chiffon

Sheer fabric with a soft flow. Perfect for veils,

most colors are special order

stock colors: white, ivory and black, victorian gold and sultry blue

.
Sparkle Brilliance
This beautiful overlay fabric has metallic glitter scroll patterns

Available in white or black with silver or gold or Ivory with gold.

Sparkle Organza

Sheer with a sparkle, perfect for overlays, sleeves and veils.

stocked colors,

white, ivory, silver, black, 2000blue,

most colors are special order.

Cottons

Cotton Twill
Used for doublets, surcoats and maidens gowns

100% Cotton
Shirts and dresses Most colors are special order.
Stocked colors: White, Parchment, Black
---
You may also view some of the trims available by clicking here
---
Return to the home page to view our full catalog of renaissance, french and bridal clothing
Copyright © 1998 - 2014 ArcaneLore, All Rights Reserved
Makes of custom Renaissance, Tudor, Elizabethan, Medieval, Celtic, Period clothing
bridal gowns, garb, menswear, wedding dresses - wear the magick